Leamington Spa Sailing Cub welcomed eleven visitors and fielded four home boats for the British Moth Class first event of the year on Saturday 6th April 2019. It was particularly good to see a number of new faces amongst the visiting sailors making their annual pilgrimage. The wind was both variable in strength and direction throughout the day but the presence of sunshine and good company more than made up for any frustrations.
Race 1 and the fleet were cleanly away at the first attempt. Toby Cooper (Broxbourne SC) quickly pulled away from the pack and was never put under any significant pressure. Andrew Yates (Olton Mere SC) paying his first visit to Leamington Spa turned in an excellent performance holding 2nd place for 3 laps until he was overhauled by Andy Matthews (Chew Valley) Matthews managed to keep Yates behind him, but clearly was never going to catch Cooper who was starting to lap some of the back markers. With pecking order now firmly established a shortening of course gave signal to the galley team to get lunch under way!
Said lunch included an impromptu celebration for two birthday boys this year (Andy Matthews and Gary Tompkins), involving cake but no bumps and a rendition of Happy Birthday befitting for such occasions and then finally Race 2 got under way. The surf was up (well as much as it can be on an eight acre puddle) and the start line bias had been tweaked which made for some excitement at the off. Another LSSC Open Meeting newbie Edmond Higson (Bartley Green) really put the cat amongst the pigeons and took the lead from Cooper who did manage to get his own way briefly in lap 2 but that was it. Higson led to the finish and Cooper had to keep an eye on Matthews to ensure he did not lose another place. Further down the fleet Jenny Hennard Craig (Maidenhead) caught out by a gust capsized her boat and was struggling with its recovery. Outside assistance was afforded and Jenny was brought safely ashore. As the safety team recovered the boat in her absence they witnessed one of the shrouds breaking. Quick thinking on their part and the main halyard was jury rigged to replace the missing a shroud avoiding a dismasting as the boat came up.
With all to play for Race 3 was held back to back and Cooper was first out of the blocks in a most determined manner. Higson who did so well in Race 2 was never in contention and this time the running was initially made by John Wayling (Northampton), then Yates and in the latter stages Matthews. Clearly though, Cooper's lead was unassailable and not unexpectedly he took line honours and the event.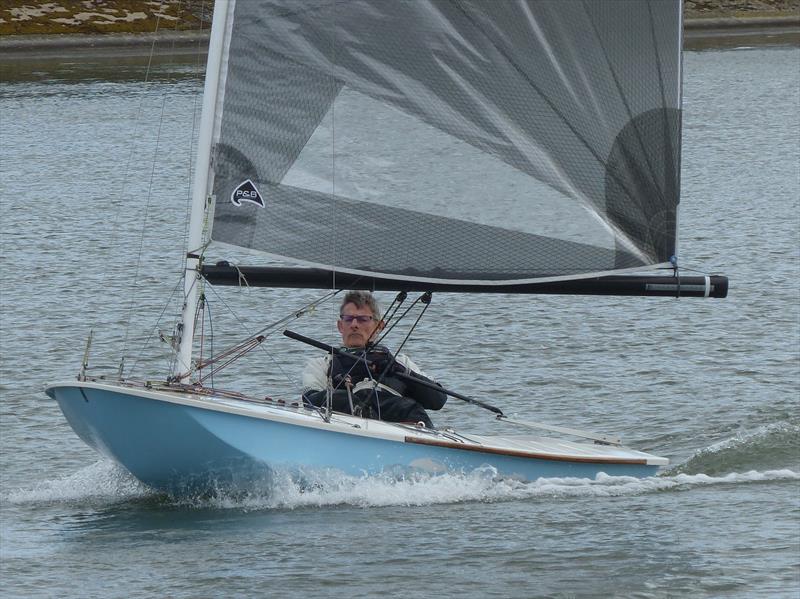 Toby Cooper (Broxbourne SC) wins the Leamington Spa British Moth Open – photo © Jayne Whigham
The boats were all packed away, glassware awarded, tales of the ones that got away swapped and the relative merits of Victoria Sponge over Ginger Cake were mulled over once again before the long trip home, with all in agreement that we must do this again!