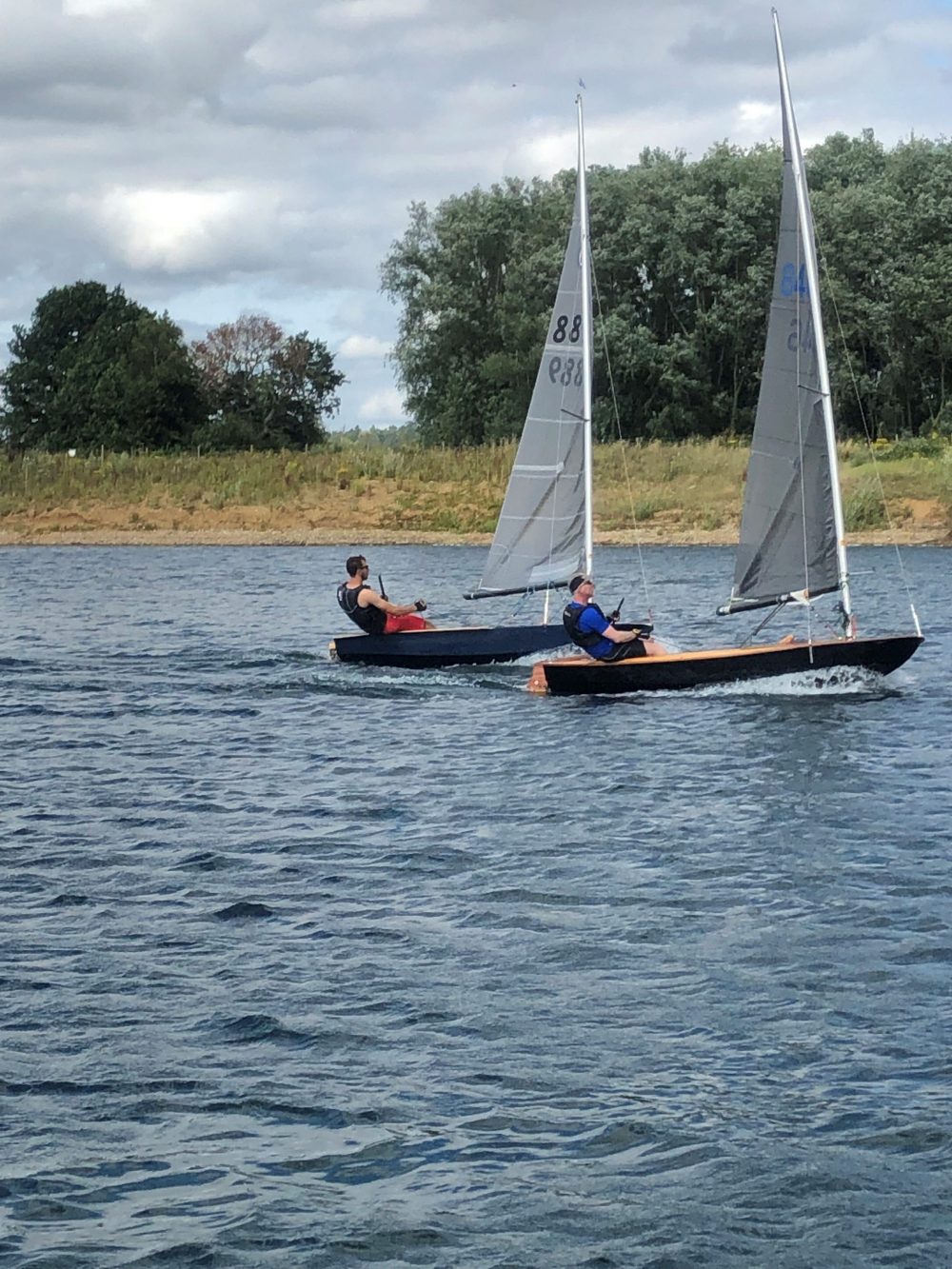 Four visitors joined the three permanent moth owners of the club, and with Sacha Mayhew borrowing Simon's newest addition to his fleet for the day. Being the final Moth Open before the Nationals, some Race coaching took place in the late morning and early afternoon prior to the racing
With the shifty wind getting stronger over the day, it looked as if the afternoon start was going to provide some exciting racing. True to form the PRO set a simple course of a figure of eight the helms to follow.
In race 1 the fleet started cleanly on the first beat where the wind was gusting upto Force 5. . Tim Davison and Toby Smith both from Medley SC led off the line with the rest of the fleet close to their heels. Sacha Mayhew used local knowledge to take the lead. As the race continued he extended his lead over the rest of the 4 lap race to win by a leg and a half margin. The race however had its casualties – Jenny Bentley who travelled from Lancashire; Olga Olsanikova and Mark Wiltshire struggled with the tricky conditions and retired.
Race 2 started with depleted numbers but with the early leaders again being Toby Smith and Tim Davison. Davison managed to hold onto his large lead for the first 2 laps before capsizing, allowing Smith and Mayhew through. Mayhew had gear failure but managed to follow Smith over the finish line.
Race3 meant that everything was to play for with Mayhew and Smith on identical points. With the helms already exhausted from the first 2 races saw Davison take an early lead only to capsize in the same spot as the previous race, handing the lead over to fellow club member Smith. But Davison managed to preserve 2nd place. For another lap. On the third lap Mayhew pulled through Davison and then sneaked past Smith on the penultimate Lap. By the end of the race only three boats were left standing and Mayhew took line honours from Smith and Davison.
In the previous five years of the event this had only been won by previous British Moth national winners, but this year saw the youngest and only Non Nationals winner take the trophy