British Moths can be found racing at various clubs around the UK and abroad. A list of clubs can be found on the fleet listing found under "About the Class"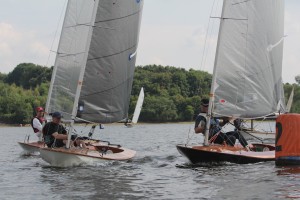 The BMBA has had two nationally run competitions, however this year there is a new Sea Championship :-
The first, is the Nationals that is held at one club where British Moths from all over the country compete over four days for a variety of Silverware. The overall winner becomes the National Champion taking home with them the much coveted Brent Cup. This event is not just to the hardened competitors but we have a social element and help forum that takes place at the same time. The majority of the competitors camp on site.
The second competition, is the Somerville Trophy . This is a series of one or two day events at a variety of clubs around the country. These clubs can be anything from ones based on rivers or to larger reservoirs or to smaller gravel pits.
For the first time there is a new competition introduced. This is seperate to anything else that happens within the fleet. A Sea Championships has been introduced at Fowey. In the past this has been essentially a Fun weekend away for family and friends. This year the format has changed and complementing this period away a Sea Championships has been introduced. Full Details are available on the website here.
The fleet is very welcoming to those not used to travelling and futher help can be found at our help page for Newcomers to the Class .
Sommerville Trophy 2017
This Year' FIXTURES list is available both on this website and that of the Y & Y.
The Notices of Race;Sailing instructions and this year's racing results can be found on a new page here immediately they become available.