The Somerville Trophy was first presented in 1959 – donated by Derek Somerville of Staines S.C. Derek was Commodore of Staines S.C. for 25 years as well as being the first chairman of the BMBA.
The trophy is for overall score of those travelling to open meetings through the season. As such, it is known as the Class's National Travellers Series Trophy and is much sought after.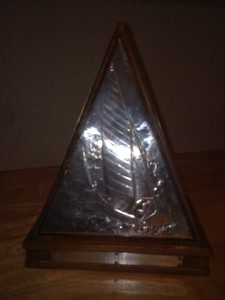 The 4-sided Pyramid shaped hardwood trophy, which features a hand tooled embossed scene of two Moths racing, has past winners on its 3 remaining sides. Qualification for the trophy has changed over the years, at one time all designated opens were deemed necessary for qualification with 99 points awarded for non attendance. These days helms can miss a few opens and still qualify.
In the 80's and 90's Godfrey Clark won the Trophy 12 times, but from 2000 onwards nobody has dominated the competition. Since 2000 David Peer (B.A.S.C.) and Tim Davison (Medley S.C.) have each claimed two victories ; Roger Witts (Frampton-on-Severn S.C.) has chalked up a total of 3 wins.
In 2012 the Somerville Trophy increased in significance as this is the Class's 80th Anniversary year and was won by Rob Wilder from Tamesis Club.
VINTAGE TROPHY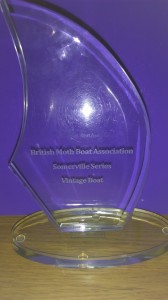 In 2014 an additional Trophy was added to the Somerville – The Vintage Trophy.  This was introduced to encourage older boats to take part in the Travellers series.  It was initially for boats numbered upto 750.  It wasn't until the 2016 series that any boat competed enough races to qualify.  The  first winner was Jenny Bentley in BM700.
The 2017 series sees the boat number increase to no 799.
Somerville Trophy Winners
| | | |
| --- | --- | --- |
| Year | Winner | Club |
| 1959 | R.S.Smith | Staines SC |
| 1960 | C.R.Edwards | Staines SC |
| 1961 | R.C.Creeves | Medway SC |
| 1962 | R.C.Creeves | Medway SC |
| 1963 | R.C.Creeves | Medway SC |
| 1964 | T.F. Cooper | Broxbourne SC |
| 1965 | T.F. Cooper | Broxbourne SC |
| 1966 | W.F.V. King | Broxbourne SC |
| 1967 | M.G. Abbott | Warwick SC |
| 1968 | S.R. Cooper | Broxbourne SC |
| 1969 | T.F. Cooper | Broxbourne SC |
| 1970 | M.D. Metcalf | Cam SC |
| 1971 | M.D. Metcalf | Cam SC |
| 1972 | C. Bone | British Motor YC |
| 1973 | M.D. Metcalf | Cam SC |
| 1974 | M.D. Metcalf | Cam SC |
| 1975 | C.D. Hill | Bristol Avon SC |
| 1976 | S. Hutchinson | Broxbourne SC |
| 1977 | G.L. Holland | Broxbourne SC |
| 1978 | G.L. Holland | Broxbourne SC |
| 1979 | F.Monk | Broxbourne SC |
| 1980 | G. Clark | Broxbourne SC |
| 1981 | G. Clark | Broxbourne SC |
| 1982 | G. Clark | Broxbourne SC |
| 1983 | G. Clark | Broxbourne SC |
| 1984 | D. Mathews | Warwick SC |
| 1985 | J. Shipp | Broxbourne SC |
| 1986 | G. Clark | Broxbourne SC |
| 1987 | M. Fowler | Hunts SC |
| 1988 | T. Cooper Jnr | Broxbourne SC |
| 1989 | T. Cooper Jnr | Broxbourne SC |
| 1990 | M. Fowler | Hunts SC |
| 1991 | G. Clark | Broxbourne SC |
| 1992 | T. Cooper | Broxbourne SC |
| 1993 | G. Clark | Broxbourne SC |
| 1994 | G. Clark | Broxbourne SC |
| 1995 | G. Clark | Broxbourne SC |
| 1996 | G. Clark | Broxbourne SC |
| 1997 | G. Clark | Broxbourne SC |
| 1998 | G. Clark | Broxbourne SC |
| 1999 | Sandy Gass | Bristol Avon SC |
| 2000 | David Peers | Bristol Avon SC |
| 2001 | David Peers | Bristol Avon SC |
| 2002 | David Eales | Evesham |
| 2003 | G. Pope | Severn SC |
| 2004 | Coln Hall | Hunts SC |
| 2005 | Tim Davison | Medley SC |
| 2006 | Tim Davison | Medley SC |
| 2007 | Rob Wilder | Tamesis |
| 2008 | Roger Witts | FoSSC |
| 2009 | Gary Tompkins | SESCA |
| 2010 | Roger Witts | FoSSC |
| 2011 | Roger Witts | FoSSC |
| 2012 | Rob Wilder | Tamesis |
| 2013 | T. Cooper | Broxbourne SC |
| 2014 | T. Cooper | Broxbourne SC |
| 2015 | T. Cooper | Broxbourne SC |
| 2016 | T. Cooper | Broxbourne SC |
|  2017 |  Tim Davison |  Medley SC |
Vintage Trophy
2016 – Jenny Bentley – Maidenhead SC
2017 – Elaine Gilligham – Hunts SC
Silver Fleet Trophy 
-Donated by John Burford
2017 –  Simon Hall – Maidenhead SC