After a discussion at one of the 2016 Open Meetings, it was agreed that the Somerville requirements needed clarifying.
1.) All travellers to events must be members of the BMBA Membership Form here
2.) The final result of the Open meeting will count towards the Somerville Trophy (as opposed to individual races).
3.) Helm must attend 50% +1 of all meetings to qualify
4.) Weekend events will count as one meeting with the overall result going towards the Somerville trophy.
5.) All open meetings count towards qualification
6.) There is no longer a requirement to attend river events – but please still support these.
Scoring
3/4 Pt for first, 2 for second, 3 for third, etc.
Tie Breaker
1. Most 1st places
2. Most 2nd places
3. Most 3rds etc.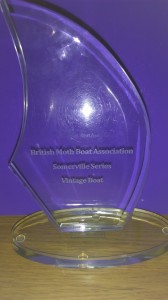 Classic Trophy
Concurrent with the Somerville Trophy, the vintage boat competition was established to encourage the helms of 'older' boats to compete. As of 2017, all boats with a hull number from 1 – 799 inclusive will be eligible for this trophy. The fleet will sail as one and the results of the older boats picked out of the general results. Obviously the older boats will also qualify for the Somerville – so they get two chances to come away with some silverware.
Gold Fleet / Silver Fleet
This year the Fleet will be split into two – a Gold Fleet and Silver Fleet. To qualify as Gold Fleet members will have either won a minimum of one open meeting or the Nationals in the previous three years. For 2017, this will mean any Open in 2016, 2017, 2018, or the corresponding Nationals.
Gold Fleet Competitors
Toby Cooper, Robbie Claridge, Roger Witts, Tim Davison, Richard Broughton, Andy Mathews, Gary Tompkins, Richard Keefe, Toby Smith.